Read more about Game of Thrones, medievalism, and grimdark fantasy in Shiloh's new book, Medievalism in A Song of Ice and Fire and Game of Thrones! Order your copy from Boydell & Brewer or Amazon today! 
---
As I wrote back in November, George R.R. Martin's A Song of Ice and Fire series has been celebrated—by Martin himself as well as by some reviewers, fans, and even a few scholars—as a more-historically authentic take on medievalesque fantasy. But, it simply isn't. And more than that, believing that it is can lead to some awful conclusions about the medieval past and the present.
In my previous article, I discussed how Martin's "all-white" Westeros (I called it A Song of White People and Fire) was bunk. And more, that believing it to be true was both easy and toxic:
The problem is the feedback loop. Martin argues that a primarily white Middle Ages is historically accurate. This leads some of his readers to believe that Westeros is an accurate depiction of the Middle Ages (because Martin says it is). Thus, anything Martin writes is an accurate depiction of the Middle Ages. This is, of course, all based on what the reader "feels" the Middle Ages was like, and much of this "feeling" comes from reading medievalist fantasy. Of course, many readers push back against this, arguing for a more nuanced view of the Middle Ages, or (as I have here) that medievalist fantasy is not historical fiction. But reading critically and against the text can be very difficult, and often the loudest voices in the room are from those who refuse to interrogate their preconceived notions.
But there is much more to discuss than Martin's take on race. Another area in which Martin's view of the medieval world, as reflected in his books, conflicts with reality in toxic ways is through its hyper-violence. Why does Martin's especially brutal view of the Middle Ages appeal so much to people in the modern world?
George R. R. Martin's particular flavor of medievalism—meaning, his overarching way of reimaginging the Middle Ages—is violent, dark, brutal, and relentlessly masculine. Martin certainly isn't alone in doing this. In a 1986 essay called "Dreaming of the Middle Ages," Italian medievalist and author Umberto Eco invented ten categories of medievalisms. Martin's medievalism is what Eco calls "Barbaric Age" medievalism, which he describes as "Dark par excellence," a medievalism that celebrates "virile, brute force" and "the glories of a new Aryanism." More recently, Amy Kaufman calls it a "muscular medievalism" that "imagines the past as a man's world in which masculinity was powerful, impenetrable, and uniquely privileged."
Martin's Middle Ages were terrible for everyone. Children are orphaned, women are constantly subject to the threat of rape, the common folk suffer as the nobility fight among themselves, and the only way to have any sort of power is through physical violence. In Westeros, Martin has created a patriarchal society with a brand of masculinity so toxic that no one—not even men—escape from it unscathed. He's even turned toxic masculinity up to eleven.
Part of Martin's mission is to debunk the idea of chivalry. This on its own isn't necessarily a problem. "Chivalry," as a universal code to protect the weak and uphold the law is mostly a myth, anyway. As Richard Kaeuper puts it in his excellent book Chivalry and Violence in Medieval Europe:
[W]e must not forget that knighthood was nourished on aggressive impulses, that it existed to use its shining armour and sharp-edged weaponry in acts of showy and bloody violence.
But Martin perhaps goes too far the other way, counteracting a rosy vision of the past with one covered in mud. In the books, any knight foolish enough to be a true believer in chivalry is doomed.
A Song of Dead Knights and Murdered Chivalry
The longest-suffering victim of the chivalry delusion is Sansa Stark. She starts the series as a doe-eyed eleven-year-old who believes fully in the stories of heroic knights and gracious ladies. These beliefs blind her to the realities of the court intrigue she is doomed to encounter, and causes her to suffer at the hands of the sheer awfulness of Cersei and Joffrey Lannister.
Her naiveté is punished with imprisonment, the death of her father, psychological torture, physical abuse, and sexual assault. Her betrothed, Joffrey, appears to be a handsome prince at first. And Joffrey knows it, and thus manipulates her through her delusions about chivalry. When the veneer crumbles, he taunts her for it, assuring her that if their children are as stupid as she is, he'll "chop off [her] head and find a smarter wife."
Sansa's naïveté also puts her in physical and sexual jeopardy: it is only by Tyrion's intervention that she is kept from being stripped naked and beaten in front of the court on Joffrey's orders. When Joffrey eventually casts her aside, he threatens to rape her whenever he feels like it.
Over the course of A Feast for Crows (as well as the "Alayne" sample chapter from the ever-forthcoming The Winds of Winter) Sansa is shown transforming into a keen political mind. But she's doing it under the tutelage of a much older man who has creepy sexual interest in her because of his years-long obsession with her mother.
Jaime Lannister is another of chivalry's victims. He initially strove to be a chivalric hero, having grown up and trained under legendary figures like Arthur Dayne ("the Sword of the Morning") and Gerold Hightower. The villains of his childhood were the Robin-Hood-like Kingswood Brotherhood, with their colorful names such as Wenda the White Fawn, Big-Belly Ben, and the Smiling Knight. Yet Jaime becomes so disillusioned by court politics and oaths made to imperfect men that he eventually kills his own king:
So many vows . . . They make you swear and swear. Defend the king. Obey the king. Keep his secrets. Your life for his. But obey your father. Love your sister. Protect the innocent. Defend the weak. Respect the gods. Obey the laws. It's too much. No matter what you do, you're forsaking one vow or another.
Jaime loses the respect of everyone around him, due to their chivalric expectations of him. Later, he loses his sword hand, the symbol of his knighthood. But as a male character, Jaime escapes worse sorts of torture and manipulation that Sansa endures. Instead, he wises up and rejects the myth of chivalry on his own.
A Savage Beast in Every Man
The disturbing implication of all of this brutality presented under the banner of "realism" is that it implies that a fictional world is more "real" if the men in it are violent rapists.
In the books, rape is expected in nearly every interaction between men and women, especially if the man has any kind of physical power. For example, Cersei Lannister assures Sansa Stark that if the keep where they're hiding during the Battle of the Blackwater is breached,
most of my guests are in for a bit of rape, I'd say. And you should never rule out mutilation, torture, and murder in times like these.
When Brienne and Jaime are captured by the Bloody Mummers, Brienne is constantly threatened with rape (despite her size, strength, and prowess with a sword). Only Jaime's intercession prevents a sexual assault. And despite rescuing Brienne, Jaime still sees rape as an inevitable aspect of war. In his experience,
Men [. . .] would kill at their lord's command, rape when their blood was up after battle, and plunder wherever they could, but once the war was done, they would go back to their homes, trade their spears for hoes, wed their neighbor's daughters, and raise a pack of squalling children.
Rape is a hallmark of Kaufman's "muscular medievalism." Almost no other facet of A Song of Ice and Fire and Game of Thrones is defended as vigorously with cries of "historical realism" by Martin and his fans. Comment threads on the topic are full of people who insist that people who are horrified by the amount of rape and violence in Westeros should "get over it" because "that's just how it was back then." Even Martin argues that rape is necessary to his story he's telling, especially in times of war:
When I read history books, rape is a part of all these wars. There's never been a war where it wasn't, and that includes wars that are going on today. It just seems to me that there's something fundamentally dishonest if you write a war story and you leave that out.
But rape is not just a part of war in Martin's world. The threat of rape or actual rape happens constantly, even when battle and war are not factors. It's so expected, in fact, that Sansa is surprised when Tyrion doesn't rape her on their wedding night; it's clear that the reader is supposed to admire him for his restraint rather than expecting that a woman would be treated with respect by default.
Rape and Violence in Game of Thrones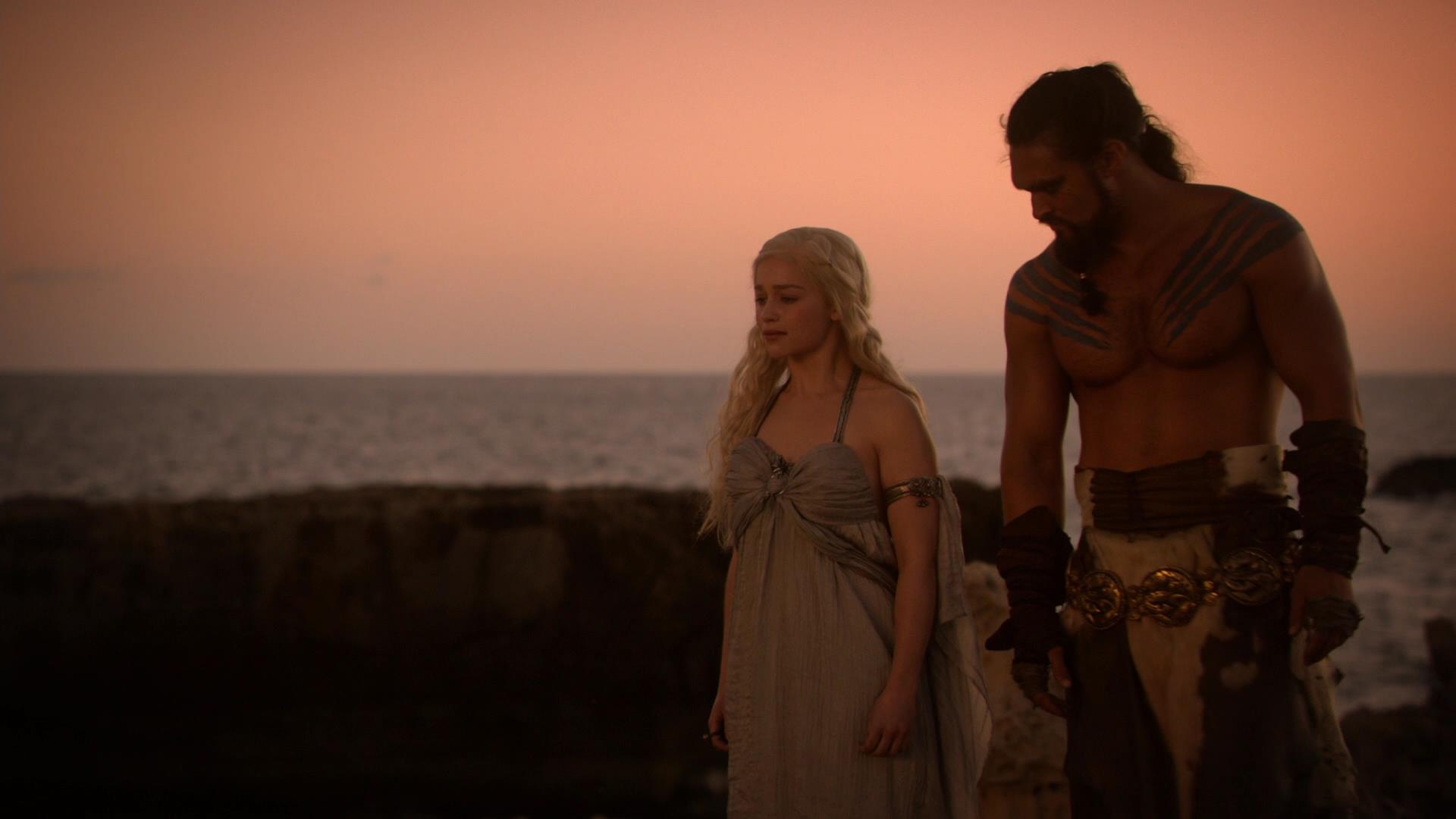 The HBO show takes the grimdark patriarchal brutality of A Song of Ice and Fire to another level. Consensual sex scenes—one between Daenerys and Drogo and one between Jaime and Cersei—were changed into rape scenes. And off-page rape scenes involving minor characters were amplified by putting them onscreen, and by transferring them to Sansa, where they could be acted out live. The showrunners defend these choices by claiming that they are creating a realistic Middle Ages through their depictions of violence and sexual assault. They also claim to be accurately representing Martin's books, even when they aren't.
HBO's darkening of Martin's vision of the past isn't just a series of errors. It's a feedback loop of medievalism in popular culture. When violence is seen as somehow more "serious" and "realistic" than other approaches, the cruel, barbaric fantasy view of the medieval world is amplified for cable television. It seems to become even more "real," but actually just brings an already grimdark fantasy story closer to a genre like horror.
Game of Horrible Rapes and Tortures
Don't get me wrong: A Song of Ice and Fire depicts an amazingly dense, layered world and a fascinating overall story. But its problems come from the barbaric medievalism Martin infused into his construction of Westeros. Martin has argued that his brutal version of the past is an antidote to what he calls the "Disneyland" or "Ren Faire" Middle Ages of other writers. Worse, he feels this has given the fantasy genre a reputation as "entertainment for children or particularly slow adults."
Perhaps he is right. Perhaps one of the reasons Game of Thrones is so popular is because it makes us feel like adults, or like savvy viewers, by rejecting so violently a Disneyfied version of the past.
But Martin's darker view of the past isn't more real. Just because something is edgy doesn't mean it's true; as many of the articles here at The Public Medievalist have shown, there was a lot more to the Middle Ages than war, violence, whiteness, and sexism.
What does it say about modern readers and viewers that we're ready to buy in to such a dark vision of the medieval past? Perhaps our fascination with barbaric medievalism lets us offload our own social problems onto a time period so far behind us that it's practically alien. We can feel superior to those dirty, backwards medieval people. And we can feel safe in our own modern mythology of progress and decency, quietly ignoring any similarities George R. R. Martin's world has with our own.