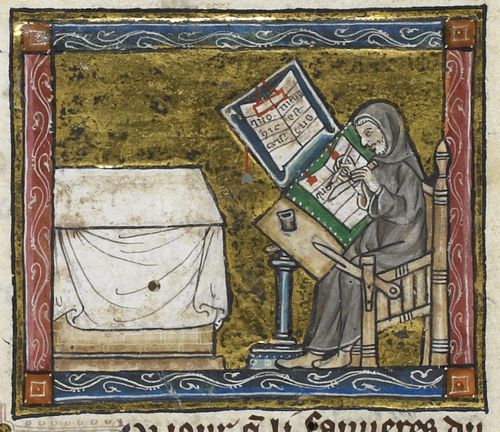 We're always open to submissions here at the The Public Medievalist! Please send pitches or full submissions to submissions@publicmedievalist.com. And be sure to read about the process (below), and our writer's guidelines: TPM Writer Guidelines.
The Process of Writing for The Public Medievalist
If you're a scholar, TPM's review process might be a bit different than you're accustomed to with academic journals or with academic book publishers. Our process is intentionally designed to be more like what you find in journalism, for example at publications like Slate or The Atlantic. This means it is more fast-paced and more is at the editor's discretion. This can be a little jarring at first, but we're happy to work with you through the process.
That said, it can take some work on both our part and yours to bring your article to completion, so we ask that you be willing to work with us on this.
The Submission Review Process
Submissions to TPM are reviewed by at least two of our editors and normally undergo a two-part review process:
Initial Review: Our editors first review your submission for general content, organization, and audience suitability. Sometimes we will ask that entire sections be cut or added, or the article split in two. That does not mean we don't like the piece; but sometimes it means that that section that we know you worked hard on just won't resonate with our audience.
Most submissions are returned to the author with suggestions for revision before the article is formally accepted. Please try to return initial content revisions within two weeks unless we tell you otherwise.
Copy Editing: Once formally accepted, your article will be edited for maximum readability and sent back to you for final approval. You will not get a tracked changes version from the copy editor, so be sure to read it thoroughly. This is a bit unnerving to some academics who are accustomed to having tighter control over their words than writers outside academia. Please understand that this is intended to be a learning process rather than a contentious one. We are here to help you become the best public medievalist you can be, and for your article to be read as widely as possible.
Your copy edits may include questions, clarifications, or suggested additions, typically in Word comments. Sometimes it takes a few rounds of copy edits to get it right. Please return this document with any changes you make tracked for our editors. We ask that you avoid substantial content changes at this point, since they will require a second round of copy-editing in-house.
Once we have copy edited an article, we intend to publish it right away, so we will ask you to return your approval and final revisions within 48 hours.
Publication: Once it is accepted at the copy-edit level, your work will be scheduled for release and loaded onto the website. At this phase you will be given a login and the opportunity for a final review of the piece as it looks on the site. When it launches, we would appreciate it if you might help us popularize your work through all your social media channels.
Note that you can save yourself a lot of red ink by making sure to follow our house style guidelines.