Part XXVI in our ongoing series on Race, Racism and the Middle Ages, by Helen Young. You can find the rest of the special series here. 
---
Game of Thrones doesn't just have a "diversity problem," it has a racism problem. The casting and the lack of well-developed characters of colour that attract most critical attention are the visible tip of the iceberg of racism that lies under the surface of the show. That iceberg doesn't just reflect the race problems of modern-day America, it reflects white privilege and a racist Eurocentric way of thinking about the world that goes back to the Middle Ages.
The tip of the racism-berg is important, and it's a good place to start. Game of Thrones doesn't even pass what Manohla Dargis called the "DuVernay test" (modelled on the Bechdel test). The Bechdel test offers a simple way to gauge whether women are represented as full and complete characters; the DuVernay test (named after Selma director Ava DuVernay) does the same for characters from racial minorities.
Although they didn't call it "the DuVernay test," Nadia and Leila Latif outlined what such a test might look like in an article for The Guardian during the #OscarsSoWhite controversy:
Are there two named characters of colour? Do they have dialogue? Are they not romantically involved with one another? Do they have any dialogue that isn't comforting or supporting a white character? Is one of them definitely not magic?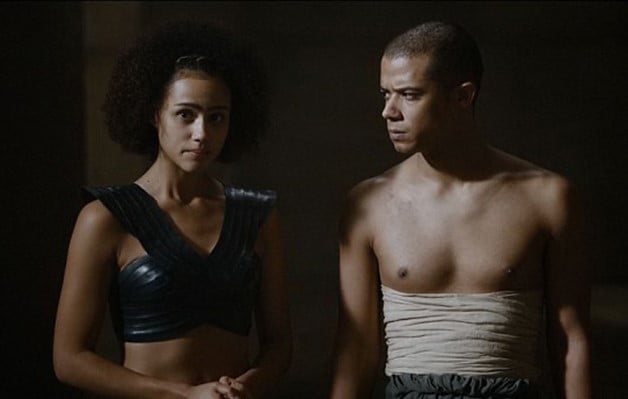 After six seasons, Game of Thrones has yet to pass. Missandei and Grey Worm, the only remaining notable characters of color (who were called "really deep characters" by casting director Nina Gold recently), are not "deep" enough to cause the series to cross the basic threshold that the Latifs offered. And change does not seem to be coming; they didn't have so much as a line between them in the first episode of season 7.
Grey Worm, Missandei—and before them Khal Drogo—are some of the most developed characters of colour in the show. But they exist as bit-players in the story of Daenerys Targaryen, the (possibly) last member of a family that Nina Gold, the Game of Thrones casting director, described as "in the books [they are] these white, white people."
Daenerys' travels in Essos are the main vehicle for characters of colour to be included in either the show or the books (the Dornish story arc is the other, and it has its own problems). The problem is that her narrative is essentially a "white saviour" plot, a common trope where a white outsider saves a community of colour from some sort of terrible plight, gaining prestige, power, and self-awareness in the process; think the movies Lawrence of Arabia, Dances with Wolves, and Avatar.
Although Daenerys' problems governing in Slavers' bay have been taken as a subversion of the white saviour plot, by the end of season six she had established at least a gesture towards resolution and sailed for Westeros with her dragons and army. It's here that the structural racism—the part of the ice-berg that's under water—comes in. Everything that Daenerys has done in Essos is in the service of her goal: claiming the throne in Westeros. The people of color of Essos become her army—a tool to be used in achieving her ends.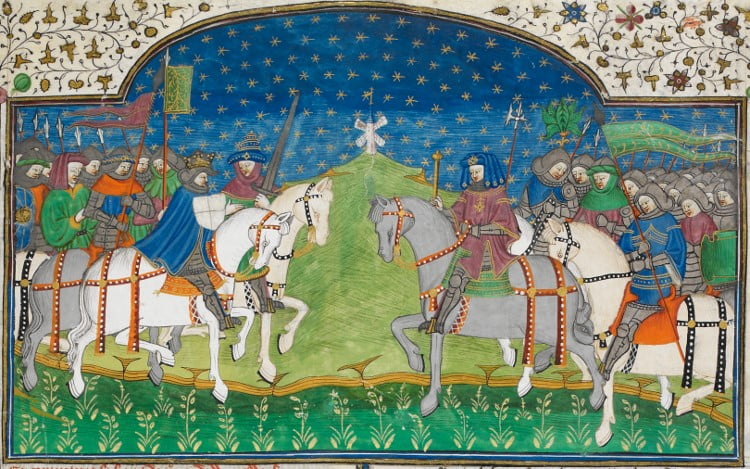 The white saviour plot device goes back to at least the crusading romances which emerged in the late twelfth-century. In just one of them, the legendary English knight Guy of Warwick (or Gui de Warewic as he was called in the original Anglo-Norman poem) saved the Christian kingdom of Constantinople from a Saracen army (the real crusaders sacked it).
This is where some white savior narratives might end. But Guy's story goes on, just like Daenerys' does once she's freed the people of Slavers Bay. Guy defeats a dragon and a giant, gaining power in the Middle East before returning home to England to save the nation from invaders from the north (Vikings) and found a dynasty. He begins life as an archetypal 'squire of low degree,' unable to win his lady or have any real power in England, but gains both through his adventures overseas.
Is this sounding familiar? Daenerys hasn't actually saved Westeros from the white walkers (yet), but in the latest episode we found out that she's literally sitting on top of a mountain of dragon-glass, the only weapon we know of that works against them. Her attention, like Guy's in the medieval romance, was always focused on "home." Everything else that happened, and everyone else they encountered on the way, is a tool for getting back there and accumulating power.
I'm not suggesting that Daenerys is deliberately modelled on Guy of Warwick or any other specific medieval figure fictional or historical. The point is that western culture has seen "Other" places and people as a source of power to be used for its own ends for centuries—in the case of Guy, going on a millennium. That perspective is what underpinned European colonisation and imperialism for centuries, with devastating effects that are still ongoing around the globe.
The idea that Game of Thrones and George R. R. Martin's novels depict "the real Middle Ages" is often used to try to deflect criticism for the lack of racial diversity (and high levels of violence, especially against women). But as we have been exploring throughout this series, the idea that the "real Middle Ages" was an all-white affair has more to do with modern fantasies about racial purity than it does with historical reality. If we're going to look to the Middle Ages to explain race relations in Game of Thrones, it's medieval literature not medieval history that we should read.
Game of Thrones and Martin's novels aren't aberrations, they reflect a way of thinking about the world that centres on Europe and Europeans and sees Others as either tools to serve the needs of a white person and their power, or irrelevant. It's a way of thinking that is at least as old as the Middle Ages. Game of Thrones has racism problems because the world has racism problems.
---
The Public Medievalist does not pay to promote these articles, so we would love it if you shared this with your history-loving friends! Click to share with your friends on Facebook, or on Twitter.